&nbsp

If you could spare a few dollars to help with the running costs of this website would be very much appreciated.

Thank you from Gravesites of Tasmania.
St Joseph's Catholic Church Hobart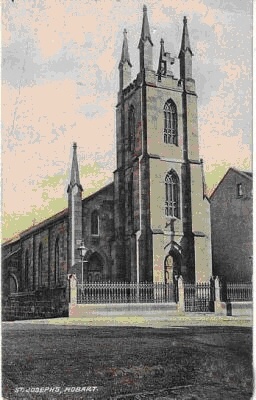 Designed by James Thomson, a former convict, and built of sandstone by convict labour, St. Joseph's Church was built in 1841 and finished in 1843. The 60 foot high tower was finished in 1843.
The side chapel was built in 1877 as a choir for the Sisters of Charity who lived for nearly 100 years in what is now the presbytery. Extensive restoration has been carried out over the past 35 years.
St. Joseph's is the oldest Catholic Church in Hobart and the first Bishop of Hobart, Robert William Willson was installed in St. Joseph's on 12 May 1844.
The pews in the church were made in 1891 from New Zealand kauri pine.